'Routes of Infection / Routes to Safety' is one of a number of COVID-19 Rapid Response projects funded by UK Research and Innovation, via the Arts and Humanities Research Council. As the pandemic is still a moving and changing situation, we aim to produce regular outputs based on the findings of the research, including reports, workshops, videos and stakeholder engagement meetings.
We're working in dialogue with bus operators, bus passenger and community organisations, a film maker, and academics across disciplines, to make sure our findings are relevant and actionable. Keep an eye out here and on our twitter feed for notes, reports, presentations and videos as they are published.
---
December 2021 – Report – 'Understanding Microbial Landscapes of the Bus During the COVID-19 Pandemic'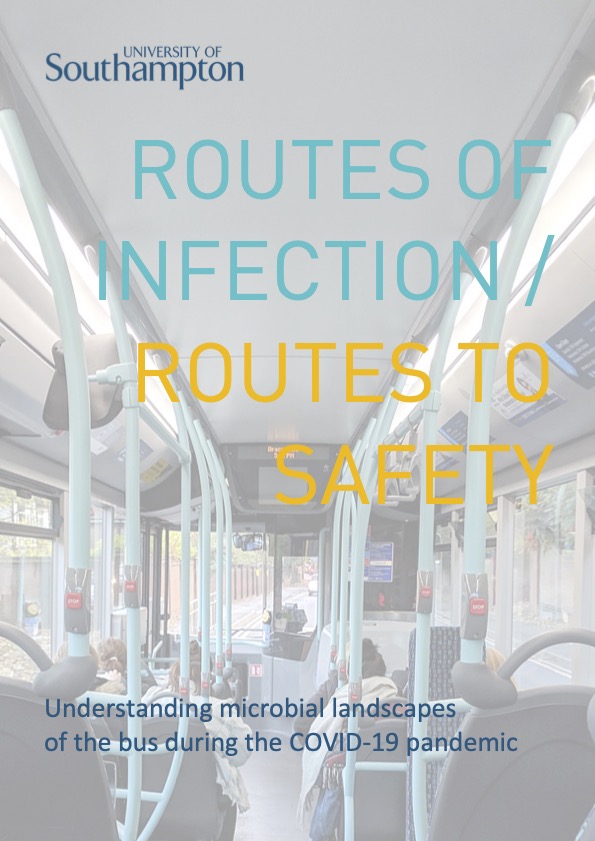 We announce the publication of an interim report for stakeholders involved in the provision and management of public transport services or other spaces where there is a risk of community transmission of COVID-19 and other infections such as seasonal colds, flu, and noroviruses. It provides analysis of everyday bus user experiences within the changing conditions of the COVID-19 public health crisis, March 2020 onwards.
'Routes of Infection / Routes to Safety: Understanding Microbial Landscapes of the Bus During the COVID-19 Pandemic' has been written by the project team and is available to download for free at the link below.
---
December 2021 – Stakeholder workshops – Recording and Slide Deck now available
At what was a crucial moment for public transport – 21 months into the COVID-19 pandemic, post COP26, amidst shifting government guidance around face coverings and other infection prevention measures (and the day after the UK Government announced movement to Plan B, to counter the recently-emerged Omicron variant), we hosted two workshops for stakeholders from the bus industry and from local and national government. The two workshops – 'COVID-19, Communities and Public Transport in Bristol and Southampton' and 'Communicating Through COVID-19: Public Health, Public Transport and Infection Prevention' – included presentations from the team, and from Dawn Badminton-Capps, England Director for Bus Users UK. The workshops were well attended and included some very rich and productive discussions, among people from public transport, strategy and public health.
A recording of the session is available below and at the link is a slide deck, which you are welcome to download and share.
November 2021 – Films – 'You're Never Alone on the Bus'
The Routes to Safety team are pleased to share below a series of short films that we've been working on, in collaboration with film maker Joseph Turp and in dialogue with project partners including bus operators, community groups and user organisations. The films have developed out of ethnography and interviews undertaken earlier in 2021, and seek to illustrate some of the things that people said make them feel more or less safe on the bus.
The films are available to download as part of the press pack here or by emailing us, and are shared under Creative Commons Licence CC BY-NC-SA. This means you are welcome to edit or remix them for non-commercial use (i.e. fine to use them to promote safety on your buses, but not just to promote the bus company in itself), as long as you credit the project. We welcome – and positively encourage – you to copy them, use them, add your own branding, etc. Just let us know if and how you're doing so, so we can report to our funder.