By Emma Roe*, Paul Hurley*, Charlotte Veal** and Sandra Wilks***. *Geography and Environmental Science, University of Southampton. ** School of Architecture, Planning and Landscape, Newcastle University. ***Health Sciences, University of Southampton.
---
Air is often noticeable only in its absence; in the lungs of patients on ventilators in ICUs or in the words "I can't breathe" of police-murdered Eric Garner and of George Floyd[1]. Yet if we give proper attention to the quality of air, we must engage with what is carried by it. Air is more than a mixture of gases; air is a vector of smells, viruses, bacteria, pollen, dust and fungal spores. We suggest that the pandemic has brought into focus the existence of a threat in what is carried in and out of our bodies through the air that we breathe. The environment that we occupy is one of material sharing, and what is carried in that shared air is formed by those we share it with: trees in blossom sending pollen on the breeze, microparticles from slowly wearing-down car tyres and brake pads, and – most pertinent to the SARS-CoV-2 pandemic – the exhalations and inhalations of viral load moving from one body to another.
Some of the airborne materials carried in these exhalations and inhalations are called aerosols – small particles that can be blown about and dispersed. Others, like those emitted by cough or sneeze, are dense enough to fall quickly to the ground (and are therefore less of threat for casual breathing in) and are called droplets. Droplets can also fall on surfaces, becoming fomites, which can be transmitted if a person touches a contaminated surface and then touches their mouth, nose or eyes. Fomite transmission's role as a common pathway for infections such as norovirus, influenza and MRSA may have set a precedent for emphasising surface cleaning and hand hygiene at the beginning of the SARS-CoV-2 pandemic.
At the same time, the acceptance of aerosol transmission of SARS-CoV-2 was slow to gain scientific, public health and popular consensus[2]. We saw this both in public health messaging[3] and in the ways in which populations have imagined, learned and performed new ways of living with a virus that most of us can't see or understand. As researchers, we are interested in how the seeming immateriality of air presents an obstacle to its understanding. Air is an element that is at once intangible and ubiquitous, that is separate from the body, that separates bodies (in social distancing) but from which a body cannot be separated. It is difficult to grasp.
During the SARS-CoV-2 pandemic, the freshness of the air that we breathe has gained new attention, as stale air does not dissipate any viral load suspended as tiny airborne particles[4]. UK governments have regulated indoor mixing between households, and recommended outdoor socialising and guidance about ventilation – such as in the video campaign[5] launched in November 2020, or in the the 'Hands. Face. Space. Fresh Air' message and campaign, launched in March 2021[6]. As well as regulating passenger numbers, public transport operators have placed stickers on windows to explain to passengers the importance of keeping windows open for ventilation in enclosed spaces of the bus. The presentation of air as something separate and external – in the breath of others, or in the space between ourselves and others – overlooks the continuity of air with breath and with the substance of our bodies. Breathing in and breathing out means we are not just sharing air with other people in a room, but with a range of other viruses, bacteria, fungi that live on, in or around them. The barrier between self and other is not, perhaps, as defined as we might think.
While the human right to a safe, clean and healthy environment[7] is recognised by the UN and most states, understandings of this have primarily related to air pollution – "the top environmental risk to human health in the UK"[8]. The illness COVID-19 produced by the SARS-CoV-2 virus has drawn attention to the inequalities around what we breathe and the disproportionate risks and vulnerabilities of individuals within BAME communities and / or living in poverty. This includes increased rates of clinical vulnerability among those with respiratory and other conditions caused by historical and ongoing exposure to air pollution[9] and experiences of poverty. It also includes increased exposure risks for those in key worker and public-facing jobs, for those reliant on public transport, and for those unable to self-isolate or shield at home due to living in overcrowded or multi-generational households[10].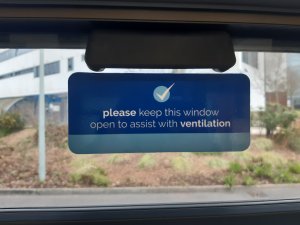 Often, these same communities have been reluctant or slow to take up the vaccine, for a range of reasons – whether because of a deep distrust of government, structural factors like language barriers, or the practical challenge of managing a couple of days of vaccine side effects alongside work and family responsibilities. We come to recognise here that the 'public' in public health (as in 'public good', or 'public interest') is not a homogenous entity, but rather that publics "can also be understood as groupings of people, their non-human counterparts, and ecological and social relations."[11] That the pandemic has taken place partially in the air, at an intersection of all of these elements, assists us in understanding the experience and implications of SARS-CoV-2 on a range of what Nguyen calls "respiratory publics"[12].
As an interdisciplinary group of researchers (from geography, landscape, microbiology and performance studies), we have been studying experiences and practices of bus use among different publics during the pandemic. Our findings continue to show that there is strong popular belief in the value of handwashing and surface cleaning to prevent infections – a belief quite deeply embedded in a cultural understanding of medicine and biosecurity. These practices perform easier-to-understand interactions with real or imagined microbes (which are too small for most of us to see), through the use of scrubbing, water and the application of a soap. We are beginning to learn about people's relation to killing / deactivating potential viruses (e.g through alcohol gels) and to dispersal of it (e.g. through washing away).
We are also learning about social and cultural experiences of social and physical distancing. In pre-pandemic times, the phrase "I'll keep my distance because I have a cold, so I won't give you a hug or a kiss" attempted to maintain a boundary in the air between two bodies; this distancing (for the safety of oneself or others) has become a meaningful and important practice with those we were never going to hug or kiss. During much of the last year it became totally acceptable, or at some points mandated, to sit apart on the bus or train – to always have a seat for your bag. However, one infection prevention measure that is still less well practiced and understood is the importance of ventilation. The struggle to grasp the significance of ventilation, we think, is linked to the much poorer general understanding of what gets carried in the air as aerosols – the viruses, bacteria, fungal spores, dust and pollen.
We have seen on public transport and in other spaces the corporate enactment of infection prevention measures previously restricted to clinical settings (indeed, initial findings of our swabbing of a recently cleaned bus showed levels of cleanliness comparable to a hospital ward). In some instances, these enactments become exaggerated, distorted or misguided, as in the 'hygiene theatre' of visible measures that do little to reduce actual risk. We might think of hand gels and signage at the entrances of buildings with closed windows, or perspex screens that customers talk around, rather than through – reassuring performances for the audience of customers or employees, rather than engagements with the viral actors of infection. And while it is true that some of these measures have a practical function (which they may or may not effectively fulfil), they also serve a symbolic one – to remind us that we are still in the midst of a pandemic, in which SARS-CoV-2 is circulating and in which bodies remain at ever varying levels of risk.
The erasure of that reminder risks taking us into new landscapes of human-viral interaction. How different 'respiratory publics' are constituted through the air that they breathe, what it contains, and what they do or don't imagine it does or doesn't contain, will have broad reaching implications.
---
For citations please cite as: Emma Roe, Paul Hurley, Charlotte Veal, Sandra Wilks. 2021. Something in the Air: the Shared Space of Breath in a Pandemic. Routes of Infection / Routes to Safety, University of Southampton blog. 4th August 2021.
---
[1] Apata G.O. 2020. 'I Can't Breathe': The Suffocating Nature of Racism. Theory, Culture & Society. 2020;37(7-8):241-254. https://doi.org/10.1177/0263276420957718
[2] Lewis, D. 2020. 'Mounting evidence suggests coronavirus is airborne — but health advice has not caught up' Nature 583, 510-513. 08.07.2020. doi: https://doi.org/10.1038/d41586-020-02058-1
[3] Department for Health and Social Care, 2021. 'Public information campaign focuses on handwashing'. https://www.gov.uk/government/news/public-information-campaign-focuses-on-handwashing
[4] Tang, J. W. et al., 2021/ 'Dismantling myths on the airborne transmission of severe acute respiratory syndrome coronavirus-2 (SARS-CoV-2)', Journal of Hospital Infection, 110, pp. 89–96. doi: 10.1016/j.jhin.2020.12.022
[5] Department for Health and Social Care, 2020. 'New film shows importance of ventilation to reduce spread of COVID-19'. Press Release, 18.11.2020. https://www.gov.uk/government/news/new-film-shows-importance-of-ventilation-to-reduce-spread-of-covid-19
[6] Department for Health and Social Care, 2021. 'Public reminded they must stay outside when meeting others to reduce the spread of coronavirus (COVID-19)'. Press Release. 29.03.2021. https://www.gov.uk/government/news/public-reminded-they-must-stay-outside-when-meeting-others-to-reduce-the-spread-of-coronavirus-covid-19 Accessed 28th July 2021.
[7] United Nations, General Assembly, 2019. 'Issue of human rights obligations relating to the enjoyment of a safe, clean, healthy and sustainable environment', Report of the Special Rapporteur, A/HRC/40/55, 08.01.2019. http://srenvironment.org/sites/default/files/Reports/2019/UN%20HRC%20Right%20to%20clean%20air.pdf Accessed 28th July 2021.
[8] Department for Environment, Food and Rural Affairs, 2019. 'Clean Air Strategy', Policy Paper p.4. https://www.gov.uk/government/publications/clean-air-strategy-2019
[9] ONS. 2020. 'Does exposure to air pollution increase the risk of dying from the coronavirus (COVID-19)'? London: Office for National Statistics. https://www.ons.gov.uk/economy/environmentalaccounts/articles/doesexposuretoairpollutionincreasetheriskofdyingfromthecoronaviruscovid19/2020-08-13 Accessed 28th July 2021.
[10] Haque, Z., L. Becares and N. Treloar (2020) Over-Exposed and Under-Protected The Devastating Impact of COVID-19 on Black and Minority Ethnic Communities in Great Britain. Runnymede Trust. Available at: https://www.runnymedetrust.org/uploads/Runnymede%20Covid19%20Survey%20report%20v3.pdf. Accessed 28th July 2021.
[11] Hinchliffe, S., L. Manderson, and M. Moore, 2021. 'Planetary healthy publics after COVID-19', The Lancet Planetary Health, Volume 5, Issue 4, 2021, Pages e230-e236, https://doi.org/10.1016/S2542-5196(21)00050-4
[12] Nguyen, V. 2020. 'Breathless in Beijing: Aerial Attunements and China's New Respiratory Publics'. Engaging Science, Technology, and Society. Vol 6, November 2020. https://doi.org/10.17351/ests2020.437